An eLearning course created to train Mercedes-Benz employees across the country on the Magno Matte Paint option for vehicles. This Flash course was created with the use of high-resolution images and text builds synced to voiceover to create animation and interactive pages.
Photoshop Production / Illustrator Production / Flash Production / Flash Development
This is an example of the animation and text build used in this course. As the page progresses, the images, animation, and text builds in sync with voice over recording.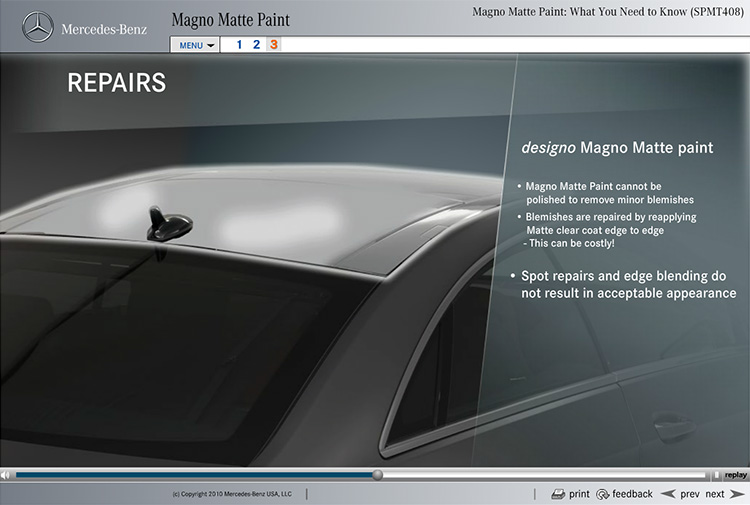 Interactive page in the course

This interactive allows the user to learn what matte paint colors are available for each vehicle model, and how to care for the matte paint. Begin the interactive by selecting a vehicle model.

Hover state of the vehicle models.

Text build syncs to voiceover.

Select a matte paint color from the color wheel.

Hover state of the color wheel.

If the user selects an incorrect answer, a prompt animates into view.

With an incorrect answer, available matte paint colors are revealed.

Once a color is selected, the user then receives a prompt.

And the text builds with a voiceover sync.

The page continues to the section where the user can view a menu of cleaning and maintenance options.

Hover state of selection.

A popup with information of the user's selection is viewed. The user can then close the information panel.

After all of the information has been viewed, all options are selected, and the user receives a prompt that notifies them of the page completion.